Home
Social distancing, Remote work, Collaboration.
Don't loose touch with your team – give them a new home. One place to connect, share and communicate.
Get organized with your virtual office in Tape.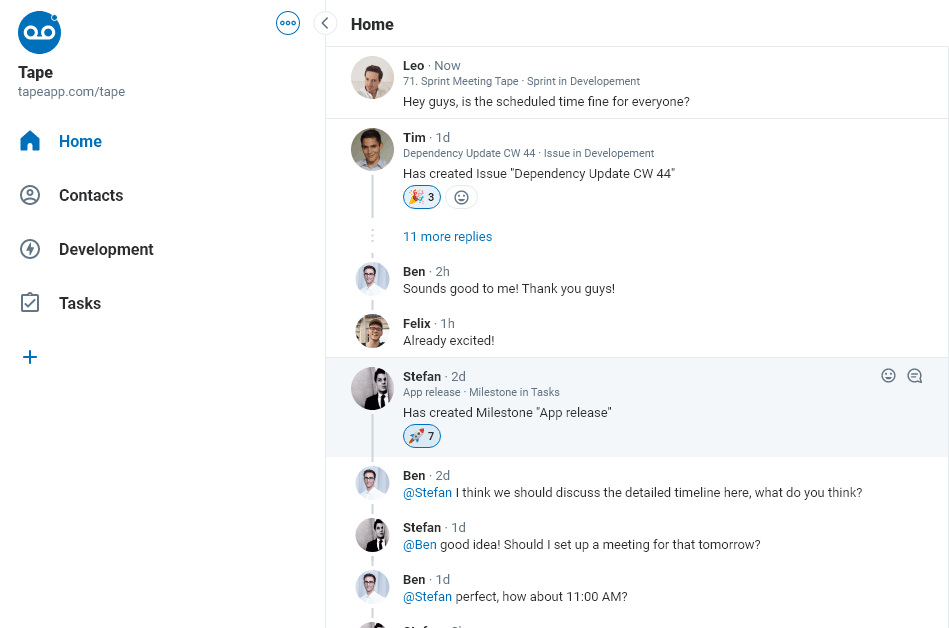 Bring your team and
their knowledge together
It's easy for everyone to get started and it's fun to create and collaborate. More results with less time, no matter what business you're in.
CUSTOMIZE, WITHOUT CODING
You and your team can define the whole structure of your content. Make your own changes to fit the way your team wants to work. Building your unique workflows is really that simple.
Bring clarity to your team.Tape is your long term memory, the single source of truth. With one tool, everyone sees the big picture. Getting better, together.
Trusted by companies of 10 to 1,000

It's awesome. For many months we have been looking for a solution to optimize the processes in our heterogeneous team across three buildings in order to manage us and our projects. We have tested at least four or five software solutions, but there has always been some unhapppiness amongst one group or another. With Tape, we now seem to have an answer that suits everyone. Thank you guys so far, please keep developing - and I'll keep you posted!
Be part of the mission.
Ready to join the evolution of Tape?